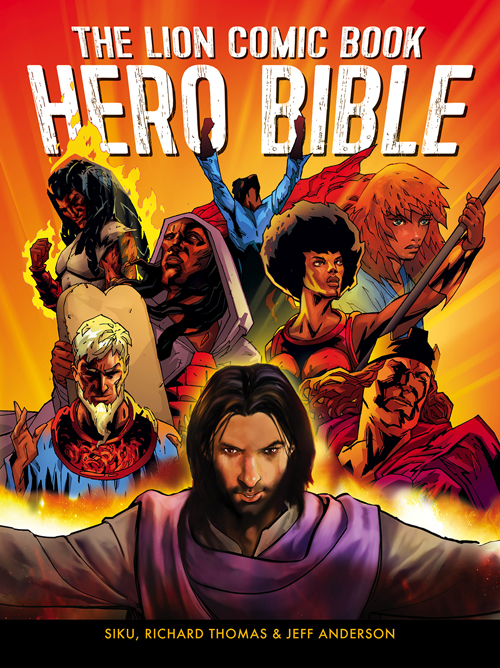 From Kregel:
A stunning new comic book version of the Bible now given the superhero treatment by the team behind The Lion Graphic Bible andThe Manga Bible

The story of the Bible is a unique tale of origins and cosmic powers; of the ageless battle between good and evil; of human potential and human treachery; and of a Messiah--a savior for the world. This is indeed the stuff that graphic novels are made of. Superheroes are the biggest comic genre of all, with many heroes having their origins in biblical characterization and imagery. This is the first Bible retelling to engage with and challenge the superhero genre.

The Lion Comic Book Hero Bible is a dynamic expression of the Bible's depth and power, produced in the style of Marvel™ Comics. You've heard of Spiderman, Superman, and Wonder Woman. Now meet Earthman, Lawman, Warrior Man, and many others. With dynamic illustration using a range of styles, Siku (Old Testament) and Jeff Anderson (New Testament) bring the Bible stories alive for a new and graphically sophisticated generation.
- See more at: http://www.kregel.com/bibles/the-lion-comic-book-hero-bible-2/#sthash.aql405Oq.dpuf
My review:
This is a graphic novel. For me, there is no draw to graphic novels or comic book style. But as a Mom to 3 boys, let me tell you- there is a HUGE draw to the boys.
My 10 year old took this Bible for a spin. Now please note, we are Bible storybook collectors, and my boys have Lego Brick Bibles, the Action Story Bible, and many other story Bibles to choose from. My 10 year old was enticed at the cover, but when he went to read it, he stopped after one or two viewings, and commented that this Bible is abbreviated. He was most annoyed that the Tower of Babel, got only 1 page, and a few words. He then didn't want to read more of the Bible, as it was too many excerpts to him. I was shocked!
What I like:
stories are accurate and often close wording to scripture.
it is a true manga/comic book style, and the text is short excerpts, often in white boxes, so it's easy to read, and it compares to other popular dark comic books.
the text- even though not copious details, is accurate, theologically accurate from what I read, and explains concepts/terms in a succinct fashion.
it's appealing to middle grade readers, and at an enjoyable reading level for those grades 3-5 readers. (mine just has high expectations based on exposure!)
it includes both old and new testament stories and a good selection.
it has a scripture index of Bible references, at the back of the book, so if a teacher wants to use it to illustrate a story (like I often do) you can tell at a glance if your passage is featured in the book.
What I struggled with:
comic book names- as the kregel excerpt states: popular characters are renamed- Adam is Earthman, Abraham is Faithman, and at the start the real names are given at the start of each section. I imagine kids will love this and the names are fitting to the Bible story, and might make connections for children even stronger.
dark images, but that's the style.
pictures are realistic with naked figures, although that's included in the text, but the authenticity will bother some parents.
Overall I think it should have a wide appeal to the intended audience, and I found that it was good information and content. So it serves it's purpose.