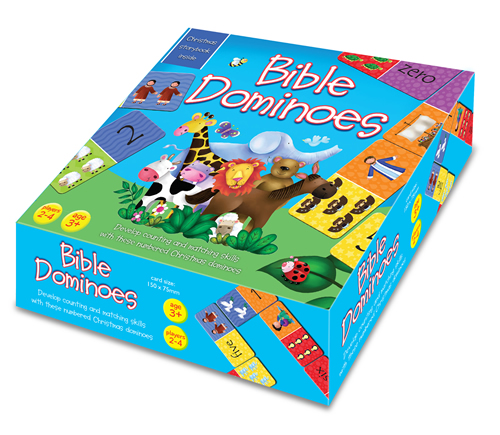 Kregel sent me this set of Bible Dominoes to review. It's a box that is about 5 by 5 inches. The 28 dominoes are on a heavy cardboard with colorful and shiny pictures on them. My daughter and I played them. She's 5 and enjoyed matching the numbers to the same number of animals or to the same word. Part way through the game, she realized that matches were the same color, and she didn't have to think as much.
The game claims to help develop counting and matching skills with these numbered Bible dominoes and it met that expectation with flying colors! With 28 dominoes, it's a fast playing game perfect for young ones attention span or even for an independent center in Sunday School.
It's traditional dominoes with Bible stories as the characters. My 5 year old had fun guessing which story each picture represented, I was impressed with her knowledge. The set also included a small booklet (glossy magazine paper) that shared about the stories pictured. The stories pictured are:
Noah and his Ark
Joseph and his Amazing Coat
Moses, Prince of Egypt
Daniel Saved from Lions
Jonah and the Great Fish
Jesus Talks to a Crowd
A Big Lunch (5,000 people fed with 2 fish and 5 loaves)
Stop, Storm!
The Good Shepherd
The Stranger Who Helped
The stories in the little booklet are 4 lines, and very simple. They are focused on facts and obedience comes up in more than one. You'd definitely need more knowledge to build on the stories. I wish there were scripture references to look up the real Bible version. But I imagine in most homes, the booklet will be separated from the game very quickly, and it was enough for connections. In our Sunday School we cover most of these stories in our preschool classes, so it will be a nice game for a station or center.
The box that houses the cards is a one piece box and the lid folds into it. It has a divider for the dominoes and is a heavy cardboard. I believe it will hold up as well as most board games, and when it shows wear, my husband can use clear tape to strengthen it. The directions for play are on the bottom of the box, a very nice place to put them, too often the extra papers get lost from little kid games, and this makes it easy to have the rules.
Thanks Kregel for the chance to review a game. I was given this game in exchange for a review, all opinions are mine, and mine alone.