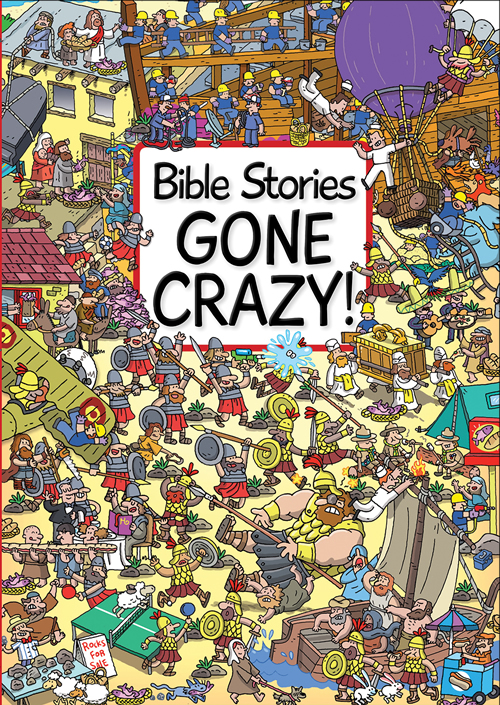 A where's Waldo style book, with 8 stories featured. As an educator, I think like a teacher first, then a Mom. So I'm sharing the publishers info, what impressed me, what I observed, and what I wonder about the book. I hope to read it more with my younger kids and add in more kid comments.
Here's what the publisher tells you about the book:
Eight Bible stories are depicted in bright color and comic, cartoony illustrations. There is a sentence or two explaining the scene at the top, and then details to spot, mistakes to find, and questions to answer along the sides of the picture, such as, "Did Noah's workmen REALLY have power tools?" and "How many rabbits are in the picture?" Children will love scouring the illustrations to find the answers and spot more amusing details in the busy artwork of Emiliano Migliardo.

The stories are Noah and His Great Ark, Moses Crossing the Red Sea, Joshua and the Fall of Jericho, David and Goliath, Daniel and the Lions, Jonah and the Big Fish, Feeding the 5,000, and Man Through the Roof.
Here's what I was impressed with:
Kid test-- I left it out in the living room and all of my children picked it up, and read it. So it has kid appeal! My 9 and 13 year old boys said it was fun and looked at it for maybe 1/2 an hour each.
nice size book (about 9 x 12 inches). It's hard bound and the pages are stitched in. (This feature is key as a mom of boys, and many of our hard bound books the spine breaks and the pages fall out).
All the pages are plastic coated, so it is durable. (Our other seek and find books all have ripped pages when you lay on a book while looking, the book looses!) So I'm impressed that this is made to last!
Illustrations- I find the illustrations (comic like more than real life like) vibrant, charming, engaging, and funny. Many Bible story book illustrations the people are scary looking, and many seek and find books are so busy, adults don't like them, but this one seems balanced, busy but not overload.
Bible Story Summary, each story has a short paragraph summarizing the story, and the passage is listed on the illustration. The title page suggest you look up the passages to help answer the questions.
Observations:
This book needs to be read to kids, a non reader wouldn't know what to look for other than a hidden teddy bear.
The images mix the Bible story images with modern day images as the 'mistakes' I assume. But I think this is part of the charm and the appeal. Random fun kid things in the pictures (mermaids, hot air balloons, surf boards, lions rock climbing, big bad wolf). I think it would make talking about the book with your kids a lot of fun! And practice great higher level thinking skills, on the child's part. (concepts like analysis, evaluation).
I could find the missing teddy bears.
This could be a great quiet time book for a reader, and even a non-reader, could have the concepts or questions read, and search.
I think this could lead to some fun book responses and spur art, reading connections, and even a writing project. (i.e. illustrate your own Bible story, and make your own mistakes, write questions. Or List 10 things that don't belong in each picture. Write a story about how the modern day (or other biblical people (moses on a surf board with the 10 commandments) items/people got to this story.)
What I wonder:
is there a website with answers? or to connect with the author and learn more about his mistakes?
is it supposed to be dry erase? I tested a dry erase marker and it wiped off immediately. Not sure if you used a marker and left it on longer if it would come off.
It says to use the Bible verses to help answer the questions, but many of the questions around the images weren't related to the story. (things like did Noah have electric tools?) But I like that many of the questions required the kids to think about current day vs. biblical times. And some of the questions you did need the Bible story to answer.
Questions. I wonder if any of the kids will expect an answer key. There is a search for teddy bears in each picture, and at the end it tells you how many where in each picture. But I wonder about independent readers, and if they will look for a key.
It's not your normal, seek and find book. The questions ask you to find something and then answer the question, so you aren't looking for hidden items, but for answers to questions. (and I think the 'mistakes' mentioned on the cover page, like Santa and a mexican band on the roof tops in the healing of the man through the roof story). So I wonder if people will be disappointed, that they aren't looking for a hidden item (like a highlights seek and find).
Santa on the roof top. I find it funny and a random kid concept, but will some parents find it objectionable, as they don't talk about Santa in their christian home?
I was given this book to review by Kregel. All ideas and responses are my own.